If you are looking for a gift for the special man in your life you might be faced with a situation where you feel like he already has everything. Buying great gifts that show you care is really difficult because the modern man really has it all. There are some great and unexpected gifts that you can still get to surprise your loved one.
Here are five great gift ideas that show him you care and provide him with a lot of joy.
1. Give Him An Unforgettable Trip
A gift doesn't always need to be a material one; instead you can give your special man an unforgettable experience as a gift. A great idea is to organise a getaway either out of the country or even a small one-night stay in a different city or in the countryside.
To show him you had him in mind try booking a ticket to a sports event he likes or his favourite band's concert.
2. Let Him Choose
Gift cards can be a great idea for a man who has everything. You can get him a gift card to his favourite shop and let him do the shopping instead of you picking out items that he might not like. You can make the gift card more personal if you spent the shopping day with him, perhaps even treating him to a spa or a dinner.
Men love information and they are all about knowing a lot of little pieces of information. So a great idea for a man who has everything is a book that can teach them with a lot of new information.
Listverse recommends a book called An Incomplete Education, which covers information from philosophy to political science. A great book is a gift that can spark up conversations between you two.
4. Gather Your Own Goodie Bag
A nice and personal gift idea is to make your own goodie bag to your man. The great thing about this is that you can add all the things that you know he will love for sure and don't end up buying things he won't like.
Add wine or beer according to his taste. The goodie bag can either only involve sweet or savoury things, whichever your man prefers more. A nice little touch is to add some personalised M&M's to the bag with sweet personalised messages.
5. Buy Your Man Jewellery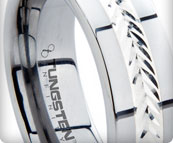 Although jewellery for men is becoming increasingly popular there are still a lot of men out there who might shy away from getting jewellery themselves. You don't have to go for the safe option of getting a watch, instead try something different like a ring.
For instance, tungsten rings for men are really trendy and look great on men who aren't used to wearing jewellery. You can look at different tungsten ring options at Men's Tungsten Online. Add some personal touch to the ring by getting it engraved with a personal message.
The above five gift ideas are a really great way to surprise your loved one. They are all very personal and show the man you really care about them and spent some time picking out the gift.
Featured images:
License: Image author owned
Kate loves to shop and is always either buying something for herself or looking out great gift ideas for her friends.